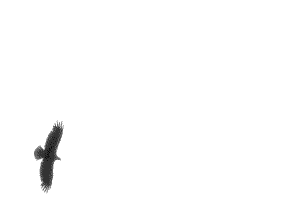 2004 Totals
from Harvey's Knob
| | | |
| --- | --- | --- |
| SP | Total | Notes |
| OS | 182 | Only twice in our 28 year history have we exceeded this number, both times with 190 (1995 & 2001). The 10 year average is 155 and our 5 year average is 172. ( Both 10 and 5 year averages will be used as recent earlier coverage of the season has helped us to increase the numbers of a few species.) |
| BE | 59 | Our second highest total. 69 in 2002 set our record. The 10 year average is 35 and 5 year average 49. For the first 20 years of the hawkwatch, the yearly average was 7. |
| NH | 53 | Numbers remain pretty steady here with a 10 year average of 49 and a 5 year average of 51. Nice to see a steady rise, though, and could our numbers be a lot higher if we were there earlier and later than we are??? |
| SS | 886 | Another steady set of numbers with the 10 year being 651 and the 5 year 661, so the increase is nice to see, but probably insignificant. This bird, as Red-tails, are put on the ridges in better numbers when we have a season with good winds, and they often soar over us so high they are missed. |
| CH | 112 | Good numbers for this accipiter. We have never finished in triple digits for this species, with the previous high being 90 in 2000. 10 year average- 81. 5 year average- 88. |
| NG | 4 | An interesting bird at our site, as the numbers show, and a difficult bird to identify. Last year we had 5. The two years before that, 10 and 15. The two years before that, 7 each. Never before that more than 4. 10 year average is 6, and 5 year average is 8. A more interesting side note is exactly when do you look for them. We expect them in November, but we had 2 in Sept. (14th and 23rd) and one in early Oct. (4th). |
| RS | 31 | A drop in numbers from former years. 10 year average 38, 5 year average 49. I have no explanation or guesses about why that number was low this year, as conditions should have pushed them to us. |
| RL | 0 | Only 5 in Harvey's 28 years, 2 in the last 10 years (1996, 1999). |
| BW | 3704 | See summary notes |
| RT | 964 | A record year for Red-tails, helped along as Oct. and Nov. winds put them on the ridges. Past experience has shown that the bulk of the RT migration tends to go through the valley at lower elevations. 10 year average 691, 5 year average 828. Record day Oct. 31 with 304 counted. |
| GE | 6 | An honest-to-goodness surprise as conditions were right this year to have more than twice that number. 10 year average 8, 5 year average 9. Record years 16 in 1996, 15 in 2002. |
| AK | 64 | Low numbers for this small falcon that I often feel flies so high over us that they are missed. Both 10 and 5 year average work out to 97, so we had 2/3 the normal numbers. Coupled with Snicker's concerns about their low numbers, perhaps this is a species that needs to be watched. |
| ML | 9 | Numbers down a bit here, too, as both 10 and 5 year averages are 14, but a sneaky raptor that can easily get by you, and another early/late flier at our site. |
| PG | 27 | Another rock hard number cruncher. Except for last year, when we had 38, the numbers for the last 10 years have stayed between 21 and 28. 10 year average 27, 5 year average 29. |
| UN | 67 | Harvey's is "blessed" with lots of buteos and accipiters so far out over the valley that ids are problematic, so I can see these numbers staying high. 10 year average 53, 5 year average 58. |
| Tot | 6168 | Respectable, considering the lack of Broad-wings. Had we gotten a good year there we might have pushed 9,000, but all experienced pretty much of the same thing along the Blue Ridge. As I stated before, we are so dominated by the weather at our site there is no way to predict what each year will bring. |


Legend:
OS - Osprey; BE - Bald Eagle; NH - Northern Harrier; SS - Sharp-shinned Hawk;
CH - Cooper's Hawk; NG - Northern Goshawk; RS - Red-shouldered Hawk; BW - Broad-winged Hawk
RT - Red-tailed Hawk; RL - Rough-legged Hawk; GE - Golden Eagle; AK - American Kestrel
ML - Merlin; PG - Peregrine Falcon; UN - Unidentified Raptor; Tot - Total


Table and notes supplied by Tad Finnell - I wanted to get out an end of the season total to those in the trenches and other interested parties with just a quick comparison to past numbers and seasons that is not meant to be anything but my own particular take on this past season. I'm sure that our resident guru, Professor Holt, will produce more significant and insightful comments about this years migration as soon as he has crunched the numbers. These totals reflect counts between Aug. 11 and Dec. 3. Weather was the key word this year with three hurricanes impacting our site during September. Most significant was Ivan, who donated rain and fog on the 16th and 17th, and then closed down the Parkway with high winds the 18th and 19th, just as the bulk of the Broad-wings were moving. As a result, our Broad-wing numbers were low, as were most of the mountain watches. But overall, with one exception, species counts went well.

We were fortunate this year to have an excellent cadre of Hawkwatchers on the Knob, and Snicker's is not the only watch with a 'Topolsky'. Billy James has become somewhat of a fixture on that mountain and it's a good thing that we don't have to pay him by the hour. Other stalwarts include Baron Gibson, Bill Grant, Tina Kemper, Joyce and David Holt, John and Sharon Williamson, Liz Williams, Andy Biggs, Katy James, Virginia Shields, Steve, Patty, and Cory Goff, as always the Hudgins and Wefels, and Mr. September himself, Barry Kinzie. Special mention to Rookie of the Year Dillard Childress, and then those who tend to be more adept at braving the sub temps during November, like Mike Purdy and Chip Dondrea. And everyone who helped out in September and lended your moral support, we know who you are and thank you. Nothing to do now but look forward to next year and start counting the days until August, not to mention resting up our necks. See you then.

Harvey's Knob is an overlook on the Blue Ridge Parkway north of Roanoke at MP 95.4
A count of migrating hawks has been manned by volunteers every year from Sept.1 through Dec. 1 since 1978.